Bringing Light – Both Literal and Spiritual
December 27, 2018 |Orchard Alliance
Pastor Brian Cook of Alliance Christian Fellowship (ACF) Church says, "We want to be a church for our city so that if we disappeared, people would miss us." Because ACF is located in Eagle River, Alaska, the church faces some unique difficulties.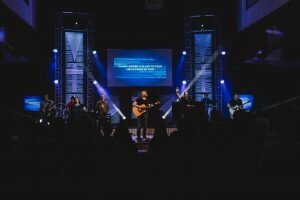 Alaska currently has the highest crime rate of all the states in the nation.
There is a large military population in Eagle River, making it a fairly transient community. And it's easy for people to feel isolated in Alaska, where long winters make it hard to leave home and a limited road system restricts travel between communities.
One of the ways ACF strives to meet these needs is by loving and serving the people of Eagle River in creative ways. During Easter, for example, the church members rented a helicopter and filled it with Easter eggs. They invited the kids of Eagle River to line up on one end of a football field for an "Easter egg hunt." The helicopter flew over the field, dropping eggs for the kids to collect. Five thousand people attended the event, and the church dropped about 30,000 Easter eggs.
Another way the church has served Eagle River is by hosting fireworks shows. People don't typically set off fireworks in Alaska on the Fourth of July because at that time of year, it's light outside at night. New Year's Eve, however, is ideal for fireworks since the holiday falls in the middle of the dark Alaskan winter. Because the city of Eagle River doesn't hold fireworks for the community, ACF holds a massive fireworks show on New Year's Eve as a way of showing Christ's love to their neighbors. The members of ACF have also served their community by providing meals for the homeless and offering free oil changes to single moms.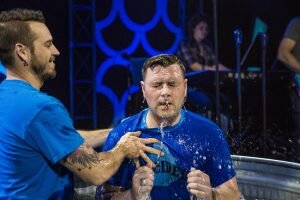 Even though ACF is building connections with the members of Eagle River (135 people were baptized last year), it's hard to focus on discipleship if there isn't a place where people can meet and feel safe. One of the difficulties the church members have faced is that their building has poor lighting. People don't feel safe meeting in a dark, run-down facility in a part of the country known for high crime rates. ACF is excited to use ADF's* loan to provide better lighting around the church building and remove, as Pastor Cook says, a significant "barricade to reaching the lost."
Another way ACF wants to demonstrate the love of Jesus is by fostering intergenerational community. With this goal in mind, the church members are renovating their children's facility. They will expand the children's classrooms and improve the check-in area in order to cut down on wait times for parents when they drop off their children.
Without ADF's* help, the members of ACF could not have obtained their church building in the first place, much less implement the current renovations. Pastor Cook emphasizes his church's gratitude for ADF's* partnership. With ADF's* loan, the members are able to more effectively live out their belief that "Life is better together."
*In Oct. 2018, ADF, Inc. and The Orchard Foundation joined to become Orchard Alliance. You can learn more here.